Ebb Tide Tent & Party Rentals also offers:
Tents, Tables, Chairs, Dance Floors, Linens, Heaters, Lighting and more!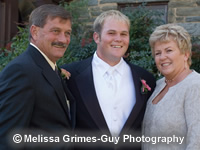 Ebb Tide started as a family run restaurant in the mid 70's, serving locals and families on their way to the ocean. During our restaurant years, many customers wanted us to come to their homes and cater small dinner parties and crab feasts, which we happily accommodated. These parties expanded into weddings and larger events; hence we developed our catering and rental business. In 1992, we closed our restaurant and did catering and rentals exclusively.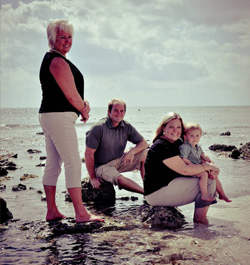 In 2005, after approximately 30 years of business, the original family members decided that it was time to give up the catering business, and William "Willie" Comegys, III, bought out his uncle's part of the rental business. He had been working side by side with his parents until a tragic automobile accident took the life of his father in September of 2010. Since that time he and his mother have been working together to offer their existing and new customers the personal service that they have become known for in the industry. Willie's wife, Heather joined the company full-time to assist with their expanding customer base and to take on the responsibility of marketing and event coordination in 2012. Kathy, Heather and Willie work together to provide the best service possible as well as providing the best quality products in the marketplace.
The Comegys Family continues to serve past and new customers as they strive to grow the business and carry on the tradition of service that their family has always been proud of providing. They are exceptionally proud of the fact that being locally based, they are able to give their customers the personal attention that some of their competitors are unable to provide.
The Ebb Tide Difference
Our dedicated team strives to provide the best service from start to finish in our industry. Our experienced event coordinators treat each event as if it were our own and our on site staff is meticulous in caring for your home and lawn area.
Ebb Tide Tent & Party Rentals has a TENT washing machine and CHAIR washing machine! This ensures that every tent we install is in perfect, pristine condition and every chair that leaves our warehouse is Wedding ready!
Learn More in this video:
Ebb Tide Tent & Party Rentals offers:
Tents, Tables, Chairs, Dance Floors, Linens, Heaters, Lighting and More!
We look forward to continuing to serve our customers, both new and existing; especially those located on the Eastern Shore of Maryland including Queen Anne's, Kent, Caroline, Talbot, Dorchester and Anne Arundel Counties as well as events located in Delaware. This includes Queenstown, Centreville, Grasonville, Stevensville, Chester, Kent Island, Church Hill, Chestertown, Rock Hall, Wye Mills, Denton, Easton, St. Michaels, Oxford, Royal Oak, Tilghman Island, Cambridge, Dover, Bridgeville, Middletown, Annapolis, Edgewater, Cape St. Claire, Davidsonville, Arnold and beyond!